Yuccas can be found over much of North America, and the architectural assertiveness of their strong, swordlike blades is prized by gardeners. Each year, stout leafless stems bear large clusters of waxy, alabaster-colored floral pendants. Needing little or no maintenance and thriving best in well drained soil, these toughs will not complain where summers are hot or humid, or long and dry. Zone 5/6.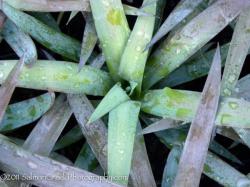 Bathed in icy gray-green and powder-blue with a dusky purple overlay, this handsome pastel-hued treasure exhibits a tough disposition. Rigid evergreen leaves with sharp pointed tips and fine-toothed margins craft a rounded barrel-like rosette that develops slowly, its amethyst coloration intensifying as the weather heats up. Pendulous, waxy white flowers draped on stout panicles deliver late summer sparkle. Unfazed by mettlesome deer, drought, moisture and humidity, 'Blue Boy' can harmonize with Melianthus major and Festuca 'Superba'.
Blooms July–August
Size: 4' 0" – 6' 0" high x 3' 0" wide.
Zone 7/8.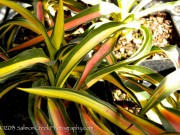 Touted as one of the most attractive variegated Yuccas available, this Japanese cultivar's stiff spiky foliage comprises a mesmerizing close set, evergreen rosette. Achieving an added luster when long, curly white margin fibers seem to capture the moonlight, each spine-tipped leaf is etched by celadon green margins and a bold, creamy gold central stripe, which becomes brighter in mid summer. 'Color Guard's imposing silhouette can stand alone, be juxtaposed with Plectranthus 'Longwood Silver's soft felted foliage or be planted en masse.
Blooms June–July.
Size: 3' 0" – 6' 0" high x 3' 0" – 4' 0" wide.
Hardy to zone 5.
A beguiling sculptural rosette of powder blue, thin pointed blades, year-round good looks and exceptional hardiness is what this shrubby, fine textured Yucca has to offer. Relatively short, flexible leaves forge a luminous specimen well suited for a vessel or the dry garden.
Selected by Sean Hogan of Cistus Nursery from seed he collected in northern Mexico, it will eventually form an upright unbranched plant that prefers to bake in a hot sunny spot with sharp drainage and alkaline soil, while protection from excessive cold-season water and wind helps ensure a successful overwintering.
Blooms July – August.
Size: 4' 0" high x 3' 0" wide.
Hardy to zone 6.