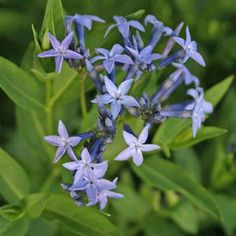 Springing forth in a seedling block of Amsonia tabernaemontana at Sunny Border Nursery, this energetic compact perennial has an unresolved lineage, with some speculating that either Amsonia montana or Amsonia orientalis may be a parent. What's for certain is the fact that its flowers are the bluest, most vibrant and longest blooming ones amongst the genus. The pyramidal-shaped terminal clusters of navy-colored buds and starry lavender-blue blooms garnish a refined dense mound clothed in narrow, willow-like dark green leaves. 'Blue Ice's easily maintained habit beams brilliant yellow fall color, looks its best when massed and makes a spiffy deer-proof addition to rock work, borders or woodland peripheries.
Blooms May–June
Size: 12" – 18" high x 2' 0" wide.
Hardy to zone 4.
Each $8.25
PREORDER FOR SPRING 2024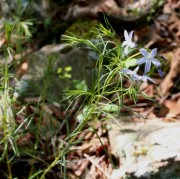 Too long ignored, this hard-to-find perennial adds pleasing texture to the border and delicacy to a bouquet. In early summer, bushy clumps of elegant, upright stems are crowned with steel blue buds and starry gray-blue flowers held in graceful umbels.
We are especially captivated by the willowy needlelike leaves, which eventually burnish to a brilliant gold, and together with the persistent chocolate-hued seed heads, bestow a rich autumn show. A southwestern U.S. native, Blue Star is undemanding and long-lived in any garden soil.
Blooms June–July
Size: 2' 0" – 3' 0" high x 3' 0" wide.
Hardy to zone 4.