Valued for its fragrant flowers and aromatic, evergreen foliage, this elegant small shrub is a hybrid bred to life by Peter Moore, Hillier's propagator. The white blossoms burst forth in profuse clusters from pink buds. Almost almond in scent, they are hosted terminally on slender, glossy and trifoliate dark green leaflets.
Resistant to deer, 'Aztec Pearl's handsome rounded visage will form a close-knit and finely textured low screen or informal blooming hedge in your garden.
Blooms June–July.
Size: 4' 0" – 5' 0" high x 4' 0" wide.
Hardy to zone 8.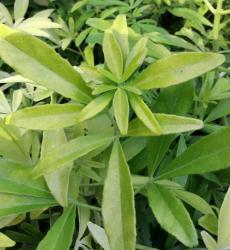 Sharing the same Choisya arizonica and Choisya ternata lineage and plant breeder (gifted British horticulturist Peter Moore) as 'Aztec Pearl', this dazzling evergreen cultivar is similar to its green-leafed relation save for its lambent gold-dusted foliage. Large citrus-scented clusters of terminal white blooms decorate the polished, palmately divided leathery leaves that emit a strong aroma. Bushy, rounded and generally pest free, 'Limo's tailored mien savors dappled light and free-draining locations plus serves as a brilliant counterpoint to dark greenery.
Blooms March–May
Size: 3' 0" – 4' 0" high x 3' 0" – 4' 0" wide.
Zone 7b.