Joe-Pye Weed
Many have discovered the curative aspects of Eupatorium, yet only two have lent it their names: Eupator, a King of Pontus, and an American Indian named Joe-Pye. We prescribe these uncommon perennials for whatever ails your garden. Some delegate this rather coarse and undeniably bold member of the Asteraceae family to meadow gardens, but we've found that Eupatorium can provide balance and stability to formal situations as well. Best of all, butterflies love them!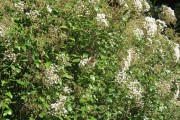 Butterflies and garden visitors alike will flock to this fragrant Mexican beauty. Small bronzy green leaves and stems fashion a dense, twiggy evergreen shrub that broadcasts a luminous last hurrah when fluffy masses of large, flat white flower heads nearly engulf its upright frame.
Discovered in 1867, Eupatorium ligustrinum creates an extraordinary and easily maintained backdrop for a mixed planting. It appreciates well drained soil, periodic deadheading and protection from wind and winter cold.
Blooms August – November.
Size: 8' 0" high x 6' 0" wide.
Zone 8/9.