Daylily
Named for the fleeting nature of their 6-petaled trumpetlike blossoms, Daylilies are hardy and easy to grow. Their strap-shaped leaves arch gracefully to form clumps of brilliant green. The buds and flowers are considered a delicacy by the Chinese, who enjoy them fresh or wilted in salads. Our selections are deciduous.
This dwarf Daylily has a refined and dainty, yet in some ways, exotic look. Persistent, richly colored brown buds and mahogany-striped, deep yellow flowers grace numerous branched stems arising from bright green, narrow foot high leaves. With its unusual blend of yellow and mahogany, 'Corky' can be celebrated en masse in a bed or individually in the rock garden.
Blooms mid-June – late July.
Size: 20" high x 12" wide.
Hardy to zone 4.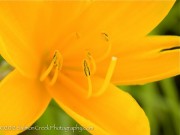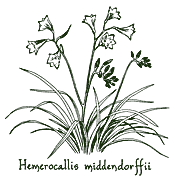 Chocolate-brown tipped buds open early into marigold orange-colored flowers above a low growing clump whose narrow, grassy green blades look ornamental even on their own.
Delivering a delightfully bright and fragrant performance in the garden or a bouquet, the broad, six-petaled blooms are held in dense clusters by blunt, cupped bracts. This northeast Asian native acquiesces to dry conditions once established and enlivens the rock garden or a pathway's edge.
Blooms May–June.
Size: 2' 0" high x 18" wide.
Zone 3/4.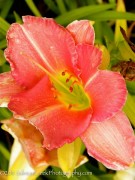 Conjuring angels colored by children's crayons, as many as 25 soft pink blooms festoon each stem. Each 6 in. wide flower showcases undulating margins and a halolike lavender band that rims the long, vibrant chartreuse throat above a bed of arching sword-shaped blades.
Blooms June – July.
Size: 2' 0" high x 2' 0" wide.
Hardy to zone 4.