Russian Sage
Hailing from southern Asia, east through Afghanistan, Pakistan and Iran to China, Perovskia's common name alludes to Vasily Perovsky, a Russian general who canvassed the region in the 1850s. This cold-hardy genus is singular for its myriad long-blooming flowers that galvanize hummingbirds, butterflies and bees plus its valiant character that braves deer, rabbits, cold weather as well as dry locales.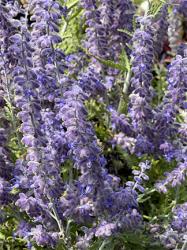 Plucked from a tray of 'Blue Spire' seedlings by British plant breeder Peter Catt, 'Lacey Blue' is a superb long-lived selection that's big on flowers and small in stature. Cherished by hummingbirds and fantastic in a vase, long-blooming masses of uniquely large blue-purple flowers garnish stiff upright spikes. Thickset frosted stems plus finely dissected, gray-green leaves, emitting a spicy scent and sporting soft hairs with a subtle silvery sheen, define the compact short bushy mound. This rugged undemanding perennial appreciates a spring pruning and makes an exemplary candidate for hot dry sharp-draining spots, especially where space is scarce. (pp#20,845)
Blooms July–mid-October
Size: 18" – 2' 0" high x 2' 0" – 2-1/2' wide.
Hardy to zone 4.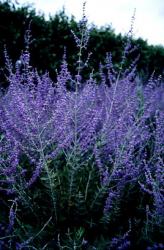 This well-behaved hearty perennial debuts branching silver spikes, sporting a long-lasting violet-blue mist comprised of countless, tiny close-set flowers. The dazzling display tarries on firm, erect steel-hued stems lined in tasteful, serrated gray-green leaves. Smaller than the species, with a little less spread, low-maintenance 'Blue Steel' grants stately soft-looking accents to mixed borders, cottage gardens and Mediterranean plantings.
Blooms July–mid-October
Size: 2-1/2' – 3' 0" high x 2' 0" – 2-1/3' wide.
Hardy to zone 4.
Hats off to Dutch plant breeder Herbert Oudshoorn for this trim smaller-sized Perovskia, which rarely grows more than 2 ft. tall. Upstanding slim white stems plus small finely dissected pewter-green leaves weave a compact luminous habit beneath whorls of 2-lipped, smoky lavender-blue flowers on large laden spires. Aromatic and accommodating, 'Little Spire' can be lodged in the rockery, along pathways or in tight spots with Salvia 'Blue Marvel' or Stachys 'Densiflorus'. (pp#11,643)
Blooms July–mid-October
Size: 2' 0" – 2-1/2' high x 2' 0" – 3' 0" wide.
Hardy to zone 4.