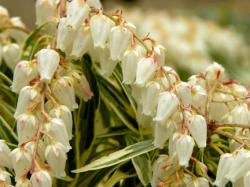 The variegated darling for the rockery, a container or other cramped garden quarters, 'Little Heath' bestows a sprightly year-round textural presence. Enchanting, bell-like tiny white blooms, small slim leathery gray-green leaves with yellowish green margins and newly unfurled bronzy pink foliage distinguish this impeccable globe-shaped evergreen. Japanese Andromeda's compact habit prefers adequate moisture, some afternoon shade and slightly acidic quick-draining soil.
Blooms March–April
Size: 2' 0" – 3' 0" high x 2' 0" – 3' 0" wide.
Hardy to zone 5.
The small-statured columnar profile of this tasteful, slow growing Pieris makes it unique. Initially emerging in vibrant chartreuse tones, pint-sized, glossy green leaves are held snugly against stiff upright stems, while urn-like, pristine white flowers populate myriad pendulous chains, tantalizing bees, hummingbirds and floral designers. An undemanding, tight set evergreen, 'Brookside Miniature' bestows winning year-round appeal to a patio vessel, the rockery, mixed borders, massed woodland plantings and gardens with limited space.
Blooms March–April
Size: 2' 0" – 4' 0" high x 2' 0" – 3' 0" wide.
Hardy to zone 6.
A luxurious bee-friendly cascade welcomes spring with large clusters of petite deep pink buds plus plentiful urn-shaped rose-pink flowers that don ivory-streaked rims and eventually fade to white. Extending the lovely display, 'Valley Rose's fine textured upright habit sprouts reddish copper-colored new growth against small glossy deep green mature leaves. First noted at Oregon's Willamette Research Center by Dr. Ticknor, this sophisticated slow-growing evergreen shrub can be utilized as a compact rounded specimen or planted en masse in a mixed border. Somewhat acidic, evenly-moist well-drained enclaves bolster its easy-care disease resistant prowess.
Blooms March–April
Size: 4' 0" – 5' 0" high x 4' 0" – 5' 0" wide.
Zone 5b/6.