Due to extremely high demand, any orders received after April 18th may not be processed for approximately 2-5 weeks. Please know our dedicated plant wranglers are utilizing all necessary resources and working as diligently as possible to ship your plants in a safe and timely fashion. Thank you for your orders, as well as your patience and understanding in these difficult times. We wish you good health and happy digging!
Cinquefoil
Said to be useful in medicine and magic at least since the time of Hippocrates, the sun-loving Cinquefoil likes well drained soil and partial shade in hotter climates, obliges both cold and drought, and can be nestled into the rockery or atop a garden wall alongside Campanulas or Stachys.
Shrubby Cinquefoil
Pontentilla's promise delicate 5-petaled flowers that entice the pollinators from early summer 'til fall plus attractive easy-care deciduous foliage that's virtually pest-free. Undaunted by deer, varied soil types and occasional dry conditions once established, Cinquefoil's dainty bearing exhibits superb winter hardiness, but pouts when exposed to southeastern heat and humidity.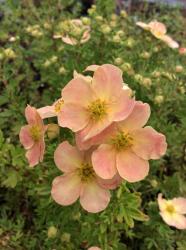 Delicate parchment-like 5-petaled flowers awash in hushed apricot pink hues and dainty thickset dark green leaves set this compact easily grown shrub apart. Promoting fine textured appeal, an attractive flood of small narrowly divided foliage garbs the versatile twiggy visage that makes an excellent hardy choice for low hedges, foundations or mixed borders. 'Apricot Whisper' can handle poor, sandy or gravel-strewn soil, but dislikes hot humid areas, and appreciates a midsummer trimming.
Blooms June–September.
Size: 2' 0" – 3' 0" high x 2' 0" wide.
Hardy to zone 3.
Hailing from Wisconsin's McKay Nursery, this rounded upright shrub debuts delicate 5-petaled, creamy white blooms from early summer 'til autumn upon an attractive, fine-textured green foil of narrow elliptical leaflets. The long-lasting pearlescent flowers coupled with close-knit deciduous foliage impart a composed classic aspect that can embellish foundations, mixed borders or en masse plantings. Undaunted by deer, cold weather, varied soil types and dry conditions, easy-care 'Mckay's White' dazzles pollinators, adopts yellow and cocoa hues for fall plus appreciates a hard, late winter cutback.
Blooms June–September
Size: 2' 0" – 3' 0" high x 2' 0" – 3' 0" wide.
Hardy to zone 2.
Hats off to the University of Manitoba for this tailored AGM recipient and its floriferous clear-pink display. Conjuring wild roses, the adorable pastel-hued blooms present sprightly yellow eyes encompassed by whitish centers amid small pinnate medium green leaves. 'Pink Beauty's mounding bushy habit emphasizes natty fine-textured accents, which can be juxtaposed against broad-leafed shrubs and perennials in courtyards, seashore plantings, cottage gardens or herbaceous borders.
Blooms June–September
Size: 2' 0" – 3' 0" high x 2' 0" – 3' 0" wide.
Zone 2/3.