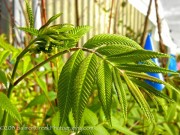 Ushering bold grandeur into the backdrop of a large shrubby planting or a woodland's edge, this dramatic Spiraea cousin hails from eastern Asia. Stiff, thick suckering stems spawn tropical-looking, elegantly chiseled pinnate foliage with serrated and pleated deciduous leaflets beneath a creamy white explosion of giant Astilbe-like plumes. Tiny individual flowers feature cupped calyxes, prominent stamens and reflexed petals for starry appeal.
Reputed to contain valuable antioxidants, the lush growing Sorbaria sorbifolia favors rich, moist soil in cooler climates, while regular pruning and cane removal will keep its spreading nature curbed.
Blooms June–July.
Size: 5' 0" – 10' 0" high x 5' 0" – 10' 0" wide.
Hardy to zone 2.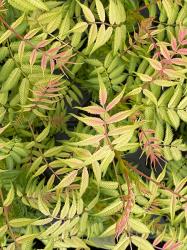 Indigenous to Russia's Ural Mountains as well as parts of Kazakhstan and Siberia, 'Sem's kin are familiar with harsh conditions. More compact and shorter than the species, this ultrahardy textural marvel unleashes dense suckering branches clothed in fern-like, pinnately compound leaves. Distinguished by springtime amber, pink and tangerine hues and bright green tones for summer, the delicate-looking serrated foliage hoists enormous Astilbe-style white panicles housing zillions of petite fleecy flowers. Ural False Spirea's deciduous habit can grace slopes, mixed borders or foundation plantings, where it promises eye-catching foliar and floral allure plus enjoys regular water. (pp#16,336)
Blooms June–July
Size: 3' 0" – 4' 0" high x 4' 0" – 6' 0" wide.
Zone 2/3.